☆Latin-X-Plosion☆ 3 Dance Areas
September 14 @ 20:30

-

September 15 @ 03:00

€11.00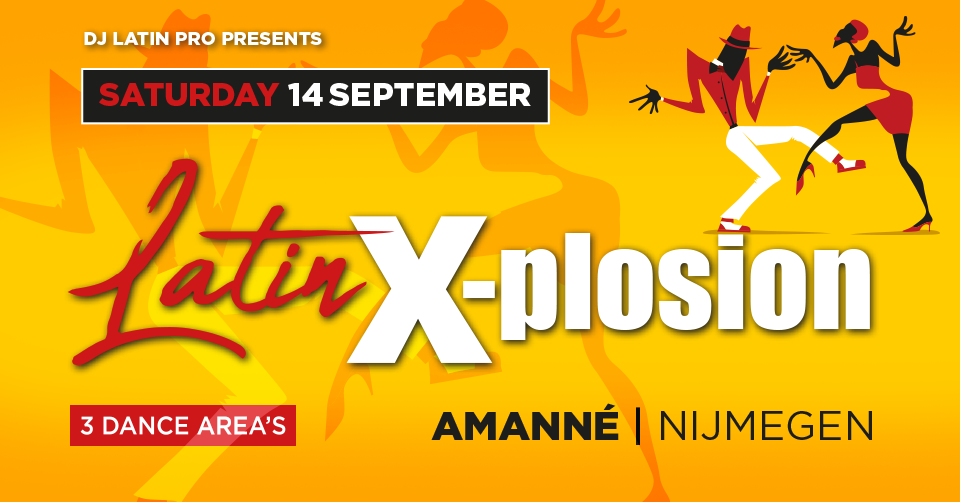 ☆☆☆☆☆LATIN-X-PLOSION☆☆☆☆☆
Op zaterdag 14 sept 2019 vind de derde editie van LATIN-X-PLOSION plaats te Amanné, Nijmegen
Latin-X-plosion bestaat uit 3 dans-area's speciaal geselecteerd voor de ultieme Latin experience: Salsa • Bachata • Kizomba
.
Met verschillende top dj's achter de draaitafels, krijg je gegarandeerd een geweldige dansavond in stijl!
Om alvast in de juiste feest-stemming te komen starten we de avond met een aantal workshops, die verzorgt worden door verschillende top dans-docenten uit de dans-wereld.
Latin-X-plosion een feest om niet te missen!
20:30 – 21:45 | WS LA Salsa van Salsa Viva (Deventer)
21:45 – 22:00 | WS Bachata Moderna van Michael & Melanie (Salsashakers, Zutphen)
*Deelname aan de workshops vraagt om een vroege aanwezigheid. Deuren open om 20:15 uur!
DJ Bico (Dusseldorf, DE) & DJ Louis (Den Bosch)
DJ Latin Pro (Arnhem), DJ Jango (Nijmegen) & DJ Joost (Arnhem)
DJ JS1 (Enschede) & DJ O.P.A. (Amsterdam)
Support by taxidancers: The Knights of Kizomba & The Specialists
Beschikbaar via link of www.djlatinpro.com
– Online ticket: €11,00 (ex fee) *vvk sluit op 14/9/19 om 18:00u
– Deur ticket: €15,00 (cash/pin)
20:30u – 03:00u *Deuren open om 20:15 uur
Tweede Walstraat 118, 6511 LW Nijmegen
Datum: Zaterdag 14 september 2019
– Garderobe 1 euro per item
Voor meer info www.djlatinpro.com l www.amanne.nl
Tickets are not available as this event has passed.